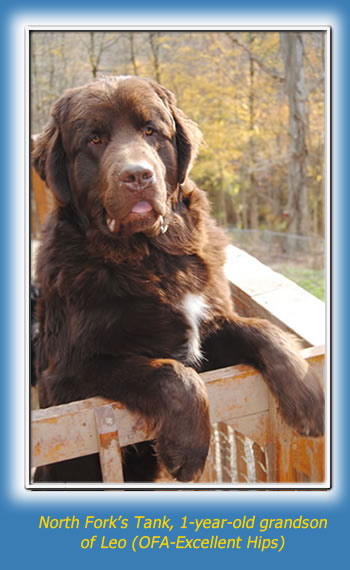 We breed top quality dogs in St. Albans, WV. We fell in love with the Newfoundland breed when we purchased our first one. Our goal is always to better the breed.
Newfoundlands are loyal and devoted companions with sweet temperaments. They are a large breed and have earned the nickname "Gentle Giants" many times over. They are a very strong and massive dog.
We are very devoted to our dogs and enjoy spending all the time we can with them. When we take ours out for a walk, car ride, trip to the groomer, vacation, Petsmart, etc. (virtually anywhere we go), they really are like a magnet attracting every age, from children to the elderly. Everyone wants to see them up close and pet them. The Newfs will ham it up too! They love the attention. It's hard to have just one.
Since my husband and I did not have pets as children, we have made up for it now. We have a beautiful 24' x 50' building made especially for our dogs. We have 12 runs in the upper part and 5 runs 50 feet long attached to the back of the building. All of our outer kennels are covered with roofs to protect the dogs from the elements. The lower kennel has enclosed sleeping quarters which is also cooled or heated as needed. The dogs really enjoy the AC in the summer months. Take a Tour of our Kennel.
We have a whelping room, office, exercise room, bathing and grooming area, etc. We've tried to think of everything while taking on this project that would make our kennel superb with the dogs' best interest at heart! Don't think for a minute that they are confined to the kennel. They have acres to run on and come in and out of our house daily.
Our Newfoundlands are OFA certified for hips/elbows, patellar luxation, cardiac, thyroid, CERF for eyes and Cystinuria. Our goal is to always strive to better the breed.
Check out some of our puppies in their new homes.