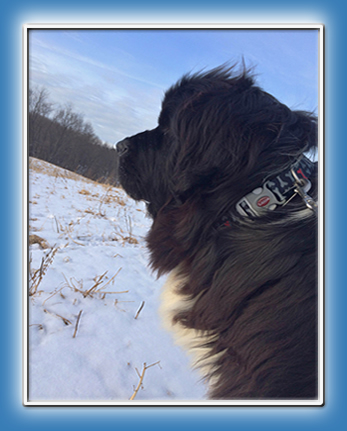 North Fork's Newfoundland puppies receive lots of tender loving care and are well socialized before they go to their new homes. Puppies are checked by our veterinarian, wormed, and given their first shots. We have blacks, browns and Landseers. Our commitment is always to better the breed.
Many canines have been singled out in literature, but none better immortalized than Boatswain, the beloved Newfoundland owned by nineteenth-century British romantic poet Lord Byron in "Epitaph to a Dog."
The ancient people dubbed it "the hero dog" because of its renowned and selfless feats of bravery. Poets extolled it for its loyal and loving nature, while artists immortalized it as a gentle giant whose bond was irrevocable. The Newfoundland is a large, strong, heavy-coated dog whose versatility on land and in water is unparalleled; a faithful companion who has found its way into more legends than even the most conscientious historian can recount; an imposing figure who impresses the eye with its great dignity and pride. In motion, the Newfoundland gives the impression of effortless power. The Newf is a strong, imposing dog, equally adaptable to land and water. The Newf is a bit of a "ham" and loved to be noticed.

When someone comes face to face with a full-grown Newfoundland for the first time, it can be a daunting experience. But, even those who may be initially intimidated by the Newf's formidable proportions, its awesome musculature, and dignified bearing are soon won over by its amazing gentleness and sweet disposition!