We work very hard to provide you with healthy puppies and dogs.  To ensure your new puppy has the best foundation for a healthy, happy life, we use NuVet Vitamins. We recommend that you continue these supplements.
These supplements come in a tasty chewable tablet that the dogs like and we feel they are the best supplements on the market today.  Our dogs keep beautiful, shiny coats, strong clean teeth, sharp vision, and strong immune systems.  We use high grade foods and use NuVet Plus to fill in the gaps.  NuVet Plus is designed to combat free radicals and assist in providing your pet with the vitamins, minerals herbs and antioxidants it needs to maintain a healthy lifestyle into old age.  And the dogs love it! .
Health Benefits of All the NuVet Vitamins
P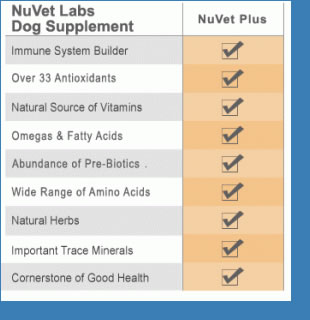 revents & Reduces the Risk of
1.) Heart Disease
2.) Liver Disease
3.) Diabetes
4.) Premature Aging
5.) Cataracts & Tumors
6.) Arthritis & Joint Problems
7.) Improves Low Energy Levels
8.) Allergies
9.) Skin & Coat Problems
10.) Soothes Dry Flaky Skin
11. ) Reduces Scratching, Itching, Biting
12.) Eye Tearing
13.) Strengthens Immune System & Vital Organs
14.) Prolongs Life
and Much More…..!
Why Give Your Pet Daily Vitamins?
Remember, Optimal Health comes from a Lifestyle NOT a quick fix!
Do you want to improve your chances of LESS overall medical bills & heartbreak throughout your pets life due to various health problems?
Do you want to strengthen your pets immune system & vital organs?
Do you want to prolong your pets life?
If Yes, then it is critical that your pet receives a high quality diet, exercise, positive socialization, proper shelter & an optimal daily vitamin since dog & puppy foods alone (high or low quality) just don't cut it. Don't wait until your pet is older & already starting into health problems before you get serious about doing anything. By that time alot of irreversible damage can be done to the main organs from all the years of lack of proper living, diet & nutrition.
If your pet is already older & having health issues – these vitamins have really made a difference in improving alot of health conditions when used (in addition too) your veterinarians treatment plan. If your pet is healthy – these vitamins are an excellent "preventative" to help KEEP your pet from showing health issues at an early age. Consistency is the key to healthy living in anyone ~ including pets. So whether you invest in NuVet or another supplement – we hope you make giving your pet a high quality vitamin or supplement daily. We wish you many wonderful healthy happy years with your beloved pet.